As promised (in the previous entry), here are the pictures from the 2005 Mac Expo. I didn't take a huge number and some of them turned out a little blurred. I guess I needed that digital camera magazine subscription afterall!

The Adobe stand.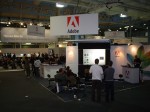 The Wacom and Softchaos stand on the left (same area, where it says Wacom) and the MacWorld stand on the right – more magazine subscription offers!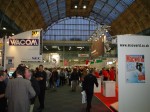 Outside the venue (after it got dark).