We went for a daytrip to Gateshead yesterday with the main purpose of visiting an art gallery. On the way there, we passed the "Angel of the North" sculpture and stopped to take some pictures. There was also plenty to take pictures of down by the river near the art gallery.

Driving along the main road towards Gateshead it's possible to see the angel sticking up over the tops of the trees, but only by stopping and walking up to it do you grasp the sheer scale of it.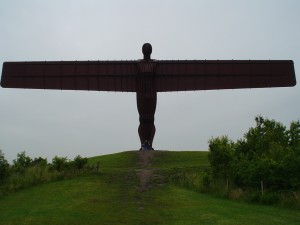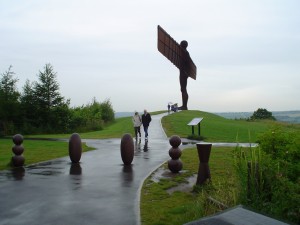 Here's the gallery itself, Baltic Centre for Contemporary Art. It's well signposted as you approach Gateshead so it was easy to find. There's even a reasonable sized public car park right next to it so parking was easy too although there's a limit of 3 hours so it's perhaps not the best place to park if you want to go exploring the rest of the riverside area.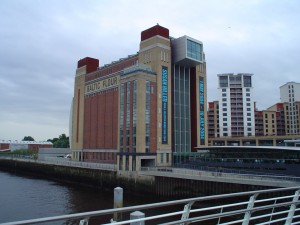 The exhibition (Susan Hiller; Recall – A selection of Works) was ok, there are several video installations (none of which are particularly suitable for children) and a room full of speakers hanging from the ceiling each one playing a soundtrack of different people talking, sometimes in a foreign language. There's also a floor of the building (out of 4 floors) devoted to another artist, Paul Moss. His exhibition entitled "Push Me Pull Me" made much use of red and white hazard tape (like the stuff you find around roadwork cones in the street) covering timber frames, boxes, and so on with it. There were also some pretty geometrical patterns in both 2D and 3D.
The gallery is right next to the Gateshead Millenium Bridge – a rather strange looking bridge that apparently tilts over to let taller ships underneath. We walked out to the middle of it and could feel the bridge wobbling up and down a little, presumably because of the wind and other people walking on it.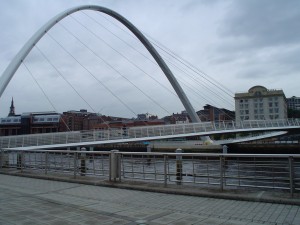 And just to the side of the river, up the side of the hill from the gallery, there's a really alien looking building – no visible signs from a distance as to what it's going to be but it looks like it's still under construction. This building is visible
as you drive down towards the gallery too.