Mention "weather" and "Texas" in the same sentence and everyone seems to imagine hot scorching sun, not a cloud in the sky and high humidity, but it's not at all like that. It's more like the weather in the UK – when it's cold and wet, it's cold and wet, but when it's sunny it's really sunny. The only difference is that when it's sunny it's about twice the temperature of the UK and there are a lot more sunny days than cold and wet.

Last Thursday (24th March) had a high of 81F (27C) which is a fairly cool day apparently even though it's around the sort of temperature the UK would expect for a hot sunny day in the middle of July. Friday through to Sunday was just cold and wet. There was a temperature of around 45F (7C) and it rained lots. There was also some amazing thunder and lightning that passed right near the house and the thunder was so loud I could feel the walls vibrating. Unfortunately I didn't manage to get any pictures of the storm as I didn't feel like fetching my camera from the car in the middle of the storm.
Enough talk of storms – here's a picture that shows just how blue the sky tends to be on a nice day.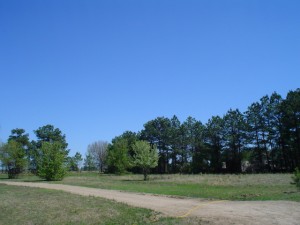 This was taken from the front door looking back up the driveway.