We popped over to North Wales (Llandudno) last weekend with barely 18 hours warning. Note to new visitors – we've been there before.. see 26 July 2003 for more.
It was Friday evening and we just figured we'd get away from the mess of a gutted bathroom in the early stages of being replaced. Decided roughly where to go, phoned a load of large hotels, no spaces anywhere, change plans, phone a load more hotels and finally find somewhere that has a room/suite for 2 adults and 2 children. Packed a few things and head off around lunchtime Saturday.

The place is "Headlands Hotel" – not too bad really, but two problems. Parking just outside is minimal to say the least because there are 2-3 spaces in their driveway and then some rather crowded public parking on the road outside. Despite the fact that it's about as far from the beach as you can get without leaving the town, it was full all the while we were there. Second problem was that the hotel allowed pets and have a dog themselves. Not a great place for anyone with pet allergies.
We took the scenic route all the way through the middle of Wales instead of up almost to Manchester and along the A55. Lovely drive, just took us about 5 hours instead of the 2.5 hours that multimap predicted for the more direct route.
Anyway, I managed to get a few pictures soon after we arrived and as you can see, it really was a nice evening.
Llandudno beach, looking back towards the pier and the hotel (up and to the left of the large white hotel towards the left of the picture).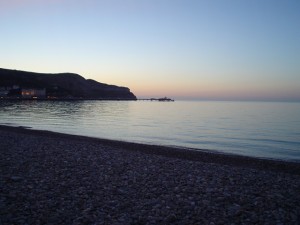 The sea front and sea, as seen from the hotel window.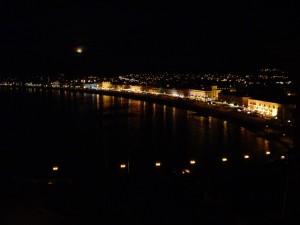 Because of the pets, Geordan was in hospital most of the Sunday with an asthma attack and we only had an hour on the beach (the one at Kinmel Bay since this was closer to the hospital than the beach at Llandudno). Messing about on the beach in jeans and trainers isn't ideal, especially when you have to get past several "streams" across the beach where the water seeps out of the sand so we weren't really able to make the most of the time on the beach.
It wasn't a bad weekend in all but would have been better if we'd had more time on the beach, less in the hospital and had been properly prepared for when we did get to the beach.