On Saturday, we went to the beach at Hunstanton, Norfolk. It was a nice day and the kids enjoyed playing on the sand. When we arrived, the beach was almost deserted apart from a few people sat on the steps leading down to the sand and a few others walking along the edge of the water.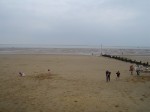 Having recently found some interesting software that creates panoramic photos by stitching many smaller images together, I decided to take a bunch of photos of the beach. Having used autostitch, the panorama turned out quite well although it's hard to see from the thumbnail.


After an hour on the beach, we picked up some supplies from the Tesco just near the carpark and went up to the cliffs for a picnic. Once we'd eaten and watched the sun start to set, we set off back home but not before we'd taken some photos of the nearby lighthouse and chapel ruins.