Last time we went to America, we visited Harrah's in Shreveport, LA and there were people wandering round with huge cups full of coins from the machines. This was just a year and a bit ago. Harrah's in New Orleans had similar machines but instead of dealing with coins, they accept $5 bills or greater and spit out a small barcoded ticket with the amount of your winnings (or remaining credit) on it. The ticket can then be redeemed at one of the machines around the edge of the room.

This is the casino by day…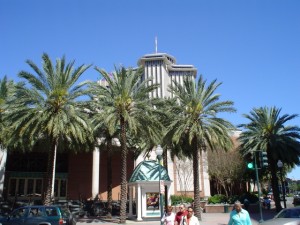 ..pretty normal looking, but by night it's all lights and even the palm trees around it are lit from underneath.