For the first morning in several days, there wasn't ice on the windscreen of the car like this picture from yesterday.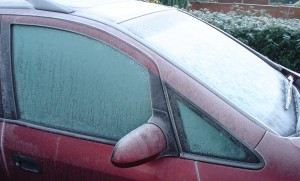 Instead of ice there was a 6 inch crack starting down near the passenger side bottom corner. At first I thought it was just water running across the corner but it didn't wipe off and on closer inspection it was obviously a crack.
A few phonecalls later and I was able to take it round to Autoglass who replaced the windscreen.