I just recently switched my old Orange number back from a pay-as-you-go to a contract and got a free new phone into the bargain. Having tried a load of phones out in various shops, I finally settled on the Nokia 6822.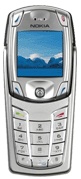 Nothing special you might think, it's just a phone.. but then..

You open it up and there's a full qwerty keyboard inside!


This picture courtesy of Nokia's website, those aren't my hands. Despite having quite small keys, the keyboard is surprisingly comfortable. I know because I spent most of last night entering my contacts because unfortunately it doesn't like to talk to my powerbook.
Anyway, I got my old number transferred across to it today (they assign you a new mobile number initially just in case you decide against moving the number I guess) and started trying it out, getting people to phone me so I could see what happens when you associate an image with a contact. The answer – nothing at all. It showed "Call" and that was it. No number, no name, and no photo. Having wondered how Nokia could ship a phone with no caller id, I decided to wait until I got home and could read the manual. Perhaps there was a missing option somewhere.
A quick read of the manual shows I should be able to see missed call numbers like this: Menu -> Call Register -> Missed calls, Received calls, Dialled calls.
Alas, no such menu options. Menu -> Call Register -> Dialled calls.
Baffled, I phoned Orange Customer Services. Got their automated menu system where you can go down through the options but can't go back up a level if you mess up. "If you are having a problem with your phone, press .." It's a problem alright. "If your phone is damaged, if you are having problems with email, problems with text messages, problems with .." It's none of those, it's just a problem with menu options. Pick one of them at random until I get through to a human. The chap at the other end knew exactly what I was talking about and transferred me to someone who could help me fix it.
The second person was even more helpful. He fixed the problem with missing caller id and menu options by sending a sim update to the phone. Whilst waiting for the phone to reset, he pointed out that I was being charged extra for not having a direct debit setup so I set one up and he cancelled the non-direct debit fee for the first month. I also came off the phone with a 4MB GPRS bundle free for a month to try it out, and a call back around the beginning of next month to see if I want to carry on with it.
I was quite impressed and just hope any future calls to Orange Customer Services are as good.